SHOP LOCAL ONLINE
From Research to Wireframe Prototype
In 2019 as a conceptual project, I developed an e-commerce component for an interior design and décor business located in the heart of downtown Pleasantville (population 35K).
The goal of the project was to leverage findings from card sorts and user interviews to develop the information architecture and basic task flow from product search through purchase, and then to build an interactive prototype from wireframes designed in Axure.
Company Background: ID Home
The majority of ID Home's design clients and décor shoppers come from Pleasantville or the surrounding towns. The business sources its products from small-scale local, regional & international craftspeople or manufacturers. These practices ensure that the product inventory feels more intentional, unique, and personal.
Note: names and some details have been changed to obscure the actual business on which this project was based.
CHALLENGE
ID Home's owners did not believe that online shopping could replace the in-person, tactile experience of in-store shopping. However, research amongst the store's local décor customers revealed a strong resistance to in-store shopping. Customers:
Wanted to research their options online on their own time not during business hours
Did not want to waste time going downtown, only to discover the store didn't have what they wanted
Would rather shop locally because they felt it was a way to support their community and would make them feel better about the choices they were making
ACTIVITIES
Methods
Client Research
Competitive Analysis
User Research
Card Sorts & Surveys
Information Architecture
Task Flows
Wireframes
Interactive Prototype
Tools
Post-its & Printed Cards
Paper & Markers
Axure
Time
2 weeks
STRATEGY
In addition to supporting users' desires to both shop online and support local businesses, I tried to consider how e-commerce might support the business goals of increasing customer loyalty and — perhaps counter-intuitively — drive more foot traffic into the brick-and-mortar store.
I pursued two tactics to address this: the first was in how the information architecture was structured on the site and the other was in the inclusion of 'nudge points' in the customer's journey through the purchasing process.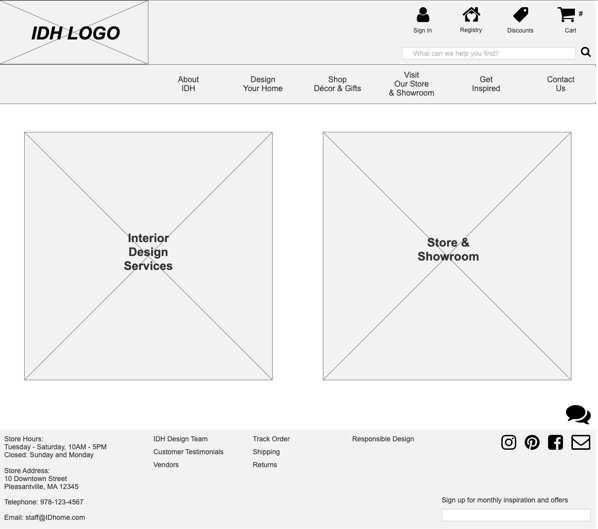 DIVIDED INFORMATION ARCHITECTURE
I developed an information architecture that mirrored the ID Home's own store/show-room layout , with one area for design clients who want to research their options on their own time, and another area for décor shoppers who want to purchase smaller items and gifts.
In the design section, clients could browse and research the product inventory and prepare for in-store meetings with ID Home's designers.
In the décor section, customers could shop those smaller items in ID Home's inventory, items they said they felt confident purchasing online like platters, table cloths, decorative items, and art work.
The classification and separation of information in this way would prevent décor shoppers from ever experiencing that disappointment of discovering an item, which they couldn't purchase online. Similarly, it would help design clients feel more empowered about their decision-making. Either user could access both paths, but because the separation happened upfront, their expectations could be calibrated immediately.
TASK FLOW NUDGE POINTS
I then developed a task flow that leveraged organic moments throughout the user's purchase path to remind them of how they could benefit from coming into the store. I was able to identify three key moments when customers could be organically incentivized to come to the store.
Often users indicated that they relied on expert recommendations and peer customer reviews of products when they shopped online. Because ID Home sells primarily one-of-a kind or very limited run products, an uncertain was given the choice to speak to an ID Home designer or schedule a time to go into the store to see, feel, and test the item in person.
Local shoppers in Pleasantville have numerous reasons to pass through downtown each week. By providing a "pick-up in-store" option at check-out, customers could avoid shipping costs and be guaranteed that the object they wanted would be at the store when they got there.
The third moment leverages the fact that ID Home has a customer's attention while they are on their e-commerce site to raise awareness for time-based in-store only opportunities such as seasonal 'turnover' moments and events. E-commerce also provides the owners with insights and data about their customers, allowing them to tailor messaging to particular buyers, such as, invitations to view new products in store before they are put up for sale on the website.
REFLECTIONS
I enjoyed working on this project, working to not just develop a solution for the users, but also identify ways to align that solution with ID Home's values, beliefs, and business goals. While the user research was limited, it provided enough key insights to inform both a critical strategic decision about the information architecture of the site, as well as numerous tactical opportunities to deepen users' connection to ID Home's brand. If I had a third week for this project, I would have pursued wider usability testing, to vet and validate the value such a site might offer ID Home's décor shopping customers as well as its design clients.
However, at the end of the day, although this solution may offer ID Home a strategy for reducing the time-management barrier that their customers experience, one has to ask the basic financial question: Will helping users shop their local values create enough additional revenue for ID Home to offset the cost of creating and maintaining the e-commerce inventory and systems?
I don't have an answer to this question, but it set me to wondering if an e-commerce back-end resource shared amongst all Pleasantville's local retail businesses might bring the costs down enough to make online selling a viable option.
OTHER PROJECTS THAT MAY BE OF INTEREST